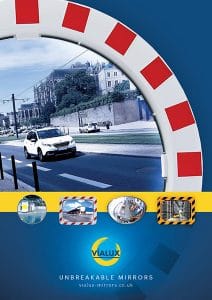 OUR CATALOG SECURITY, SAFETY AND SURVEILLANCE MIRRORS
Vialux® offers the largest range of security, safety & surveillance mirrors available
For more than 30 years VIALUX® has been manufacturing convex safety, security and surveillance mirrors.
As our range of unbreakable mirrors is the widest on the market, to allow you to have an complete presentation of our products, you can view our whole interactive catalogue. You may also download this catalogue in PDF format.
VIALUX® mirrors are used in a vast array of situations, industries and countries. There is always a VIALUX® mirror close by.
Our business philosophy is based around our genuine commitment to cost-effective product supply, exceptional service, premium quality and product innovation. Our objective is to ensure we remain the number one choice for mirrors and maintain our status as the market leading manufacturer.
VIALUX® mirrors are available from our network of specialised distributors, offering you the guarantee of a local partner who understands your needs.